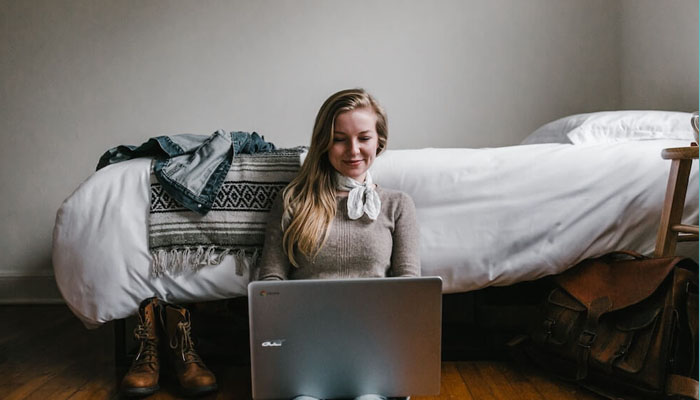 We are no more at a phase when people used to be stuck at their houses thinking & dreaming about working in pajamas. Open your eyes and realize that the internet is connecting people today no matter where they are.
Technology offers many new opportunities for you including work-from-home jobs. Yes, you too can be involved in a work-from-home job without spending a single penny.
Best Work-from-home Jobs With Zero Startup Fee
Here are some best work-from-home job options with zero startup cost that you can consider doing from your home comfortably:
1)

Freelancing (Proofreading/Editing/Writing)



Freelancing is one of the best money-making opportunities at present. All you need to do is to search out jobs and clients that can match your specific skills as well as interests.
In freelancing, you should master in time management because more write-ups mean more money.
There are no such hurdles to enter this field. You just need to be both organized as well as ambitious if you wish to establish this as your career.
2)

Ebay Sales
There are mainly 2 ways to earn money as an eBay seller:
Become a seller

Handle sales for people
The money you earn as an eBay seller can differ from person to person. Remember that this will require a lot of determination as well as finding an appropriate eBay niche.
Read More: Make Extra Money On Etsy
3)

Virtual Assistant



Today, virtual assistants (VA)are very popular in the market. If you are also a well-organized & enterprising person, then this career will let you earn a good living directly from your home.
Many entrepreneurs, as well as companies, are looking out for VAs to do their daily tasks. With an Internet-connected computer, you too can become a virtual assistant from any part of the globe.
4)

Online Tutoring



Any subject that you know completely?
Maybe you were a Science major or you have excellent maths skills, then you should become an online tutor for sure. This may be an excellent way for you to earn a living from your home.
All you need is a good set up along with a site helping you to team up with numerous students.
Read More: 5 Easy And Effective Ways To Start Saving Money
5) Pet Sitting
Are you an animal lover? If yes, then pet sitting can be a great option for you. Don't sound like a work-from-home job, isn't it? Yes, you will have to push yourself a little in this job. But the amazing part of this job is that many parents are ready to pay extra money to people who will take care of the pet at their home.
Start Working in the comfort of your own home!!!