June Unemployment Report: The recent PMI survey data from around the globe had one topic in common– employment is contracting even as economies are shifting towards stabilizing. This is no news since unemployment is a lagging indicator, however, the extent of both damage & momentum can be measured by how soon jobs will return.
Presently we came to know that employers in the United States added 4.8 million jobs in June that was a minimum of one million more than the highest estimates. 
Also Read: Do You Know These Money Saving Tips to Survive a Recession?
Talking about the unemployment rate, it fell to 11.1 percent, down from 13.3 percent in May, as per the BLS. 
While over 15 million still are unemployed as of February, the two-month trend is going in the correct direction. For the week ending June 27, the first claims were 1.4 million and continuing claims increased to 19.29 million.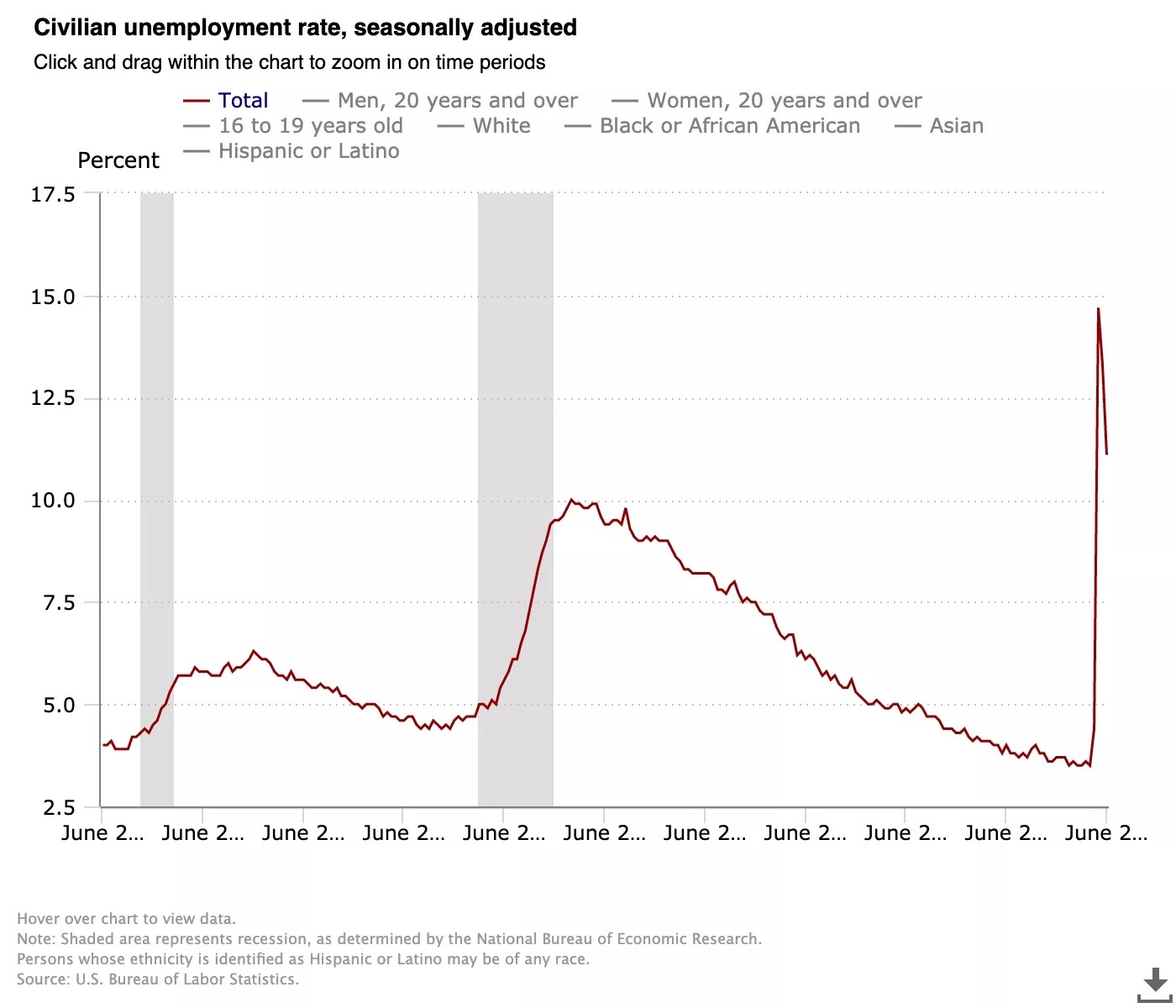 This blog will give you a clear picture of the unemployment situation in our country today. It may seem a small, normal, and even boring topic to you but it is actually a serious and important topic to talk about. 
So, take a look at some added perspective along with certain data: 
Unemployment by race is still painting an uneven picture of the economy:
Adult men: 10.2 percent 

Adult women: 11.2 percent 

Teenagers: 23.2 percent 

Whites: 10.1 percent 

Blacks: 15.4 percent 

Hispanics 14.5 percent 

Asians: 13.8 percent 
Plus, the 11.1 percent unemployment rate can be worse than what it actually looks like. In recent times, The Bureau of Labor Statistics elaborated that the rate was likely higher than it was reported in March, April, and May, and around 5 million people were misclassified in the May report. 
Also Read: Best Work-from-home Jobs With Zero Startup Fee
Respondents even told that they had steady jobs despite not working hours during the past week due to cancellations, postponements, etc. Maybe, these people were also counted as unemployed leading to the rate rising to 19.7 percent in April and being at 16.3 percent last month rather than 13.3 percent. For this, even BLS came forward and assured that it will take necessary measures to rectify the issue.
The recent report measures data from the week including June 12 and is likely not depicting the actual effect of re-closures underway around the country. 
On July 1, JPMorgan mentioned its tracker of United States spending by a panel of 30 million Chase credit & debit cardholders has pulled back noticeably from its recent highs. Therefore, the pullback shows unexpectedly widespread around states as well as demographic groups. Not to mention, people who are not searching for new jobs are not considered as unemployed by the BLS.
Numerous online platforms are even providing a different and clear insight on where jobs are coming back the fastest. Jobs openings are producing a "fragile recovery" in every sector worst hit by lockdowns that are revving up, however not in those responding more to the economic recession than closures, as per the Glassdoor's report. The same thing was also highlighted in the recent ADP report.
Also Read: Make Extra Money On Etsy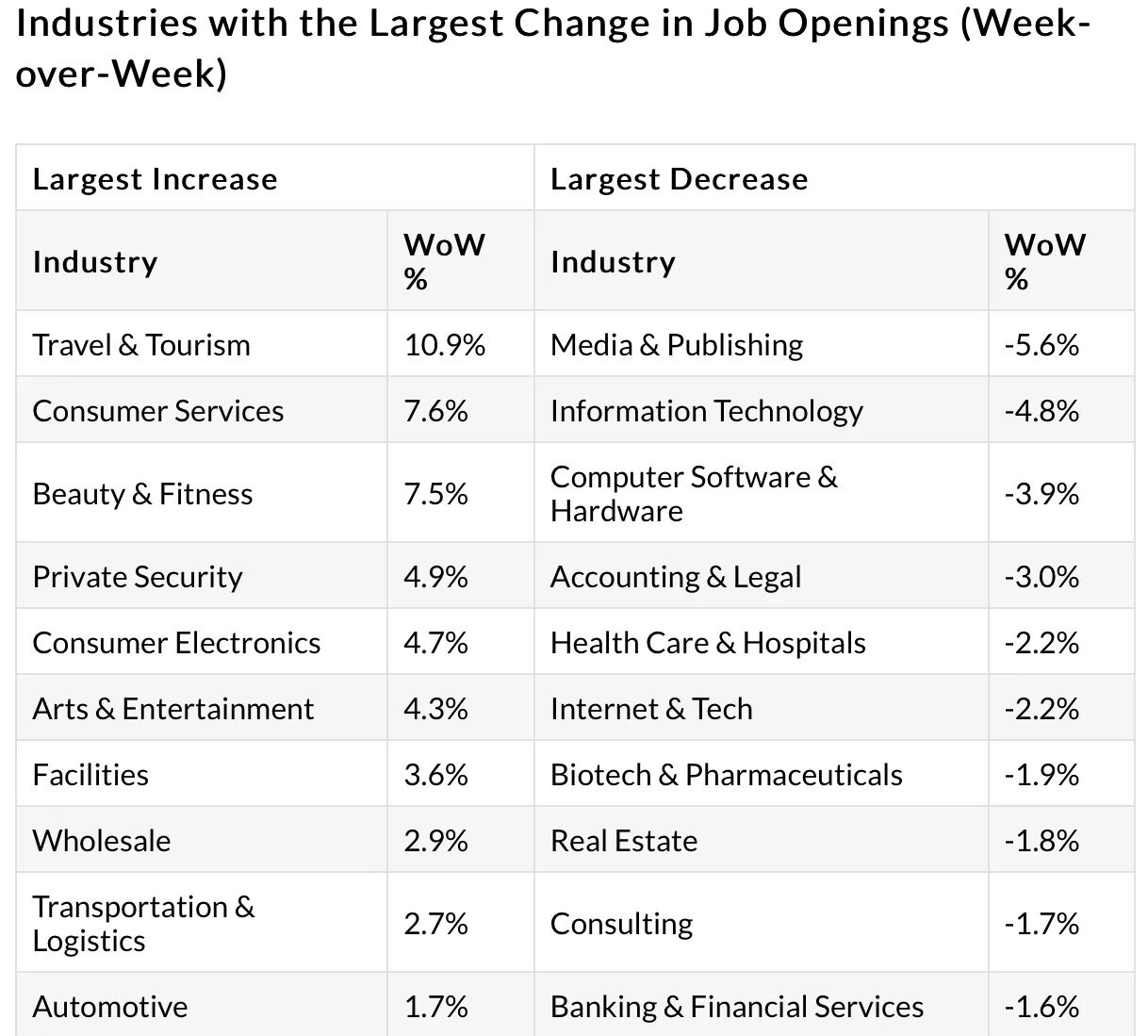 Job postings for high-wage occupations are falling behind, as per Indeed. This means there is cautiousness about the economy long-term. 
Lower-wage industries such as retail and food service may adjust their employees in response to month-to-month or even week-to-week changes following high-demand. 
According to Jed Kolko, higher-wage industries such as tech & finance will plan their employees depending on what they expect demand to look like longer-term, in future quarters or years. In addition to this, look out for more pointers that the labor crisis is negatively impacting minority groups, too.
Homebase is a time-tracking software provider, particularly for small businesses. They recently said that more employees are working, however, the recovery is slowing as well as there has been plateauing in various cities that suggests permanent closures on Main Street. 
Also Read: Best Ways to Earn Extra Money
Huge economic disfiguring of this sort & fiscal support lacking (PPP loans not being replenished/no more checks/no aid for state & local governments) are the topmost worries for the labor market in the present times besides recovery of the virus. So, pay close attention to the total number of individuals who say they have permanently lost their jobs.